Sunset Beach
Ahhh….Good ole' Sunset Beach! Where the name speaks for itself! This isn't actually in the 'downtown' portion of Cape May. This area is considered to be Cape May Point. First we'll tell you how to get there, then we'll tell you what it's about.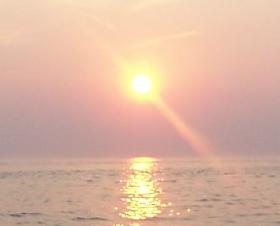 How to Get There
When you enter Cape May from the Garden State Parkway, go over the bridge and stay straight, that road turns into Lafayette Street. You'll go through a few lights, then the street eventually comes to a complete stop (at a stop sign). A liquor store will be directly in front of you and the road is called Jackson Street. To get to the Atlantic Ocean you would turn left here. However, for Sunset Beach you want to get to the Delaware Bay, so turn right. You'll quickly go around a bend and just stay straight. Don't get off of Jackson Street. Jackson Street will quickly turn into W. Perry Street and then Sunset Boulevard. But, they are really the same roads…just merge into one another. Stay on Sunset Boulevard for a few minutes, you'll go through West Cape May, then some preserved areas and eventually run directly into the parking lot for Sunset Beach.
Now if you are staying 'downtown' Cape May…Jackson Street shouldn't be too far from you, wherever you may be staying. So, your best bet would be to ask someone where you are staying and they should be able to point you in the right direction. You'll only be a few blocks from it! Ok…so hopefully you'll get there alright...it really isn't hard, basically one road takes you there. And if you need further assistance, there is always the town map!
The Beach
Sunset Beach provides the perfect backdrop for a great sunset. It is located on the Delaware Bay and nothing gets in the way of the sun….unless a cloud rolls by. The entire area isn't all that big, but big enough for you to find a spot. When you arrive into the parking lot, the beach will be directly in front of you. There are gift shops there and a small eatery that serves various hot items and cold drinks.
This isn't a favorite spot for swimming, though. There are no waves and the sand is a bit rocky. You ever hear of Cape May diamonds? Well, this is where they come from. Not really a diamond, just a shiny, polished looking rock. But, that is what this sand is comprised of. I would wear something on your feet as it doesn't feel all that good walking on this sand.

The Ceremony
But anyway, just wanted to prep you a little bit. You are here for the sunset! It is a great scene. Families lay out across the sand with their blankets and chairs. Some people fishing off the rocks. The sunken concrete ship in the near distance. As the large and beautiful sun gets lower and lower more people will start arriving. You'll see a flagpole between the beach and the parking lot….as the sun is setting every night between Memorial Day and Labor Day, an American Flag is raised on this pole while Taps and the National Anthem are played. These flags are fallen heroes of the United States. These flags were draped on individual's coffins as they were laid to rest. Families can reserve a night to have their own raised. It's something very simple but something very special and emotional for some.
Once, the sun has set, the music stops, and the flag has been lowered, many just quietly pick up what they brought and get on their way.
If you are in Cape May for a few days, I would not miss out on this!!