Cape May real estate, rentals and realtors

Welcome to the Cape May real estate, rentals, and realtors page! With all the great stuff Cape May offers, it's no wonder many people are interested in buying and renting properties here! This page will try to give you some kind of basis on what is out there. We will provide you with some local realtors who know the area well. They are knowledgeable in buying, selling, and renting.

Any properties that we may come across that are available for rental or purchase, we will put up as quickly as possible. So keep checking back from time to time and hopefully there will be new properties for you to check out!
If you have any properties you are looking to sell or rent, contact us and we'll put it on the site.
Obviously, the ole' rule for properties is location, location, location. Well, it's no different in Cape May! Generally, the closer you are to water the higher the price may be. Although, some people do prefer to be close to the shopping and downtown district too. So you do have options out there.
Cape May Point Listing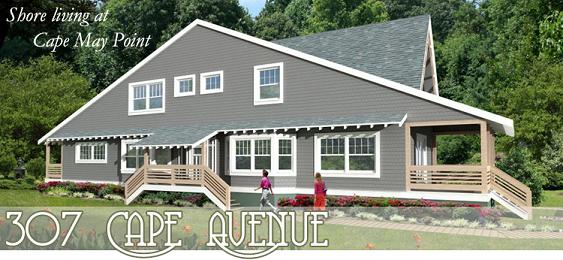 This extraordinary new Shingle Style House, at 2700 square feet, with 3–4 bedrooms and 3½ baths on an oversized lot, is just one short block from the beach. All principal living spaces, including the Master Bedroom Suite (with its own private screened porch) are on the first floor. Guest bedrooms, on the second floor, have cathedral ceilings and their large windows provide ample cross ventilation. The front bedroom includes a spacious deck under the gable dormer with beautiful views of Cape May Point's famous sunsets. If you are interested, please contact us through the form below!
Asking Price:
$1,295,000