Cape May Lewes Ferry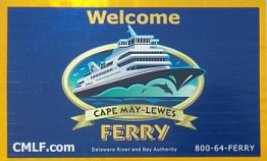 Whether you are visiting Cape May for a week or weekend, the Cape May Lewes Ferry is always on a visitor's list!
People call the ride various names including the Cape May Ferry, Lewes Cape May Ferry, or the Cape May Lewis Ferry.
If you hear anyone saying these, they are all the same. But it's really called the Cape May Lewes Ferry.
The Cape May Ferry Trip
You'll definitely spend a half-day and most likely close to a full day doing this, so plan accordingly. The boat ride is just over an hour each way and you'll have wait a bit just to get on. So, a half day is almost gone right there.
The ferry takes you over to Lewes, Delaware and then back to Cape May. When you get over to Delaware, the town is a small shore town that borders the Delaware Bay. It offers good restaurants and shopping and access to other points along the Delaware Coastline.
Ferry Options
You have two options getting on the boat. You can park your car in the parking lot, then walk on. Or, you can drive your car right on the ferry and take it into Delaware with you! If you have kids, they seem to get a kick out of driving the car on the boat. There are different rates for whichever option you choose to do.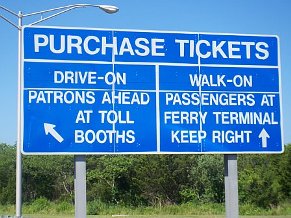 As mentioned above, you can take your car on the Cape May Lewes Ferry or walk on. If you choose to get on by foot, the parking is free at both terminals. However, you have to think about how you'll get around each town. There is a shuttle service in both Cape May and Lewes for passengers. This shuttle service is a good idea if you are walking on. So ask about it when you purchase your ticket.
Otherwise, you'll need to call a cab or some other means of transportion. So genally taking the shuttle means you can see a lot more of each town, rather then waiting for rides. Especially in Cape May, the terminal is not walking distance to the downtown area and Lewes is a bit of a stretch, too. The shuttle runs continuously throughout most of each day and basically circles each town. If you are walking, ask about this when you purchase your ticket.

Fare
Walk on - Adult is approximately $9.50, one way. That includes ages 14 and up. If you are between the ages of 7 and 13 that fare is cut in half. And the return fares are generally discounted by a couple of dollars. And all kids under the age of 6 are free! So if you have little ones, they don't have to pay.
Taking the car on - Obviously, this fare is going to be a bit more expensive. This fare is about $41 in peak season and $30 for the return fare. Plus, the cost per person as mentioned above.
Schedule & Reservations
The Cape May Lewes Ferry does have a schedule. It seems to change on various days. If you are driving on, I would recommended making reservations ahead of time. If you don't, you run the risk of getting to the dock and waiting a few hours until there is room on the ferry for you and your family. The boat can only hold so many cars at once.
If you are walking, you should be able to get on the boat when you choose. But do ask if you may need a reservation. Below is contact information for a reservation.
Cape May Ferry Schedule
Phone: 1-800-64-FERRY (1-800-643-3779)
CAPE MAY TERMINAL
Sandman Blvd. & Lincoln Dr.
P.O. Box 827
North Cape May, NJ 08204

LEWES TERMINAL
43 Cape Henlopen Dr.
P.O. Box 517
Lewes, DE 19958

---
If you don't make a reservation this is how the Cape May Lewes Ferry system works:

It is a nice ride…tends to get somewhat windy when you are outside. But there is an inside portion too. For the most part, you can see land all throughout the ride. So, you're not too far out to sea. If you check out the town map, scroll to the left and you will see the direct route of the boat ride. Or, you can check out the image above and its basically a direct line from the two points It is basically where the Atlantic Ocean meets the Delaware Bay.
If you happen to be traveling when the sun is setting…you'll get a great view! And whatever you do, enjoy your ride on the Cape May Lewes Ferry!
From Cape May Lewes Ferry to Homepage