Cape May Point State Park
The Cape May Point State Park is a nice spot to hang out for an afternoon or morning. If you have never been to the park, it isn't overly large. It doesn't have any swing-sets or things for kids to play on. It's more of an observational park then playful park.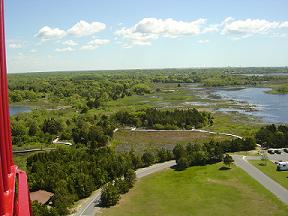 What is does offer is a lighthouse, walking trails, World War II bunker, and access to the beach.
It also offers a lawn area, just in case a picnic may be in your plans. Just a reminder, the park does ask you to throw out any trash you bring in. And no alcohol.
The park is open daily from dawn 'til dusk.
Cape May Point State Park – What to do
Cape May Lighthouse
The lighthouse allows you to walk to the top and get some great views. There is a fee to enter. And you may be sweating by the time you get to the top. But it is rewarding once at the top, great 360 degree views!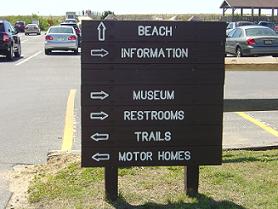 Cape May bird watching
Cape May is a big bird watching area. Many species flock here during the fall months. Various trails throughout the park allow you to walk through nature and eye up birds.
Cape May Walking Trails
There are (3) walking trails at the park. They are labeled by colors, red, yellow and blue. The red trail is 0.5 mile long. The yellow trail is 1.5 miles long. And the blue trail is 2.0 miles long. They all basically take you through the same type of vegetation. Along the way you'll see ponds, wetlands, marshes, and coastal vegetation. You'll have to see what kind of active mood you are in to determine which trail to take. Don't want to get stuck out on a 2 mile trail if you're not in the mood!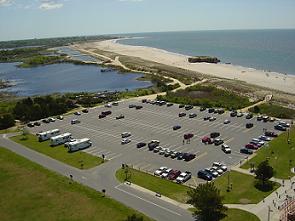 Beach
Ahhh…the beach. You can directly access the beach through the parks parking lot. You won't miss the access walk-way. When you enter the beach, take a look to you left and you won't miss the World War II bunker. Reportedly, this bunker used to be 900 feet inland from the sea. Today, the ocean bumps into it.
Picnic
There is a large lawn you can go and have a picnic on. Once you enter the park, this area will be directly in front of you. Pick out a nice spot and you'll be on your way enjoying your picnic or a lazy day in the sun.
Cape May Point State Park – Where is it
The Cape May Point State Park is within Cape May Point, NJ. If you are coming from Cape May, you'll have to get on W. Perry Street, which becomes Sunset Boulevard and take it for a few miles into Cape May Point. Before hitting Sunset Beach, you'll see a road on your left hand side called Light House Avenue, make that left. Continue on Light House Avenue until you come upon the sign for Cape May State Park on the left. Pull in and enjoy one of the New Jersey state parks!