Cape May Lodging
Cape May lodging – Cape May offers a wide array of lodging options. You'll be able to find small, quaint, large, intimate, elegant, modern, and just about everything else.
Lodging options are sprawled throughout the city, so if there is a certain section or area of Cape May you love the most, you'll probably be able to find something there.
Most of the lodging in Cape May includes bed and breakfast, hotels, motels, and house rentals.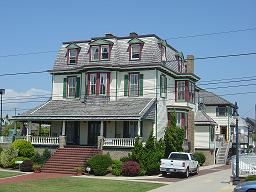 Bed & Breakfasts
Unlike many of the other Jersey Shore towns, Cape May offers plenty of Bed and Breakfast accommodations. This is what sets Cape May, NJ apart from the others.
First, bed and breakfasts provide a different style of stay. Secondly, the architecture of these buildings lets Cape May stand out.
It's the kind of Victorian Architecture that you can stare at and admire. The kind that makes you want to take a photo. The kind that makes you feel like you went back in time. There are virtually Victorians on every street. Some large and some small, but beauty surrounds the town.
You can check out Cape May Bed and Breakfasts here.
Hotels
How many hotels are in Cape May? I'm not exactly sure! But there are enough to give you a variety of options. Many of these hotels are located in very close proximity to the beach and many allow you to have ocean views.
Now, in Cape May, Beach Drive separates the beach from any block or improvements. So, you'll have ocean front accommodations but not beach front. Not that it's a huge difference but no matter where you stay, you'll have to cross Beach Drive before hitting the beach.
You can check out Cape May hotels here.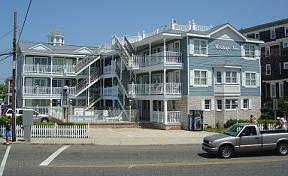 Motels
I guess classifying a motel really just depends on an individual's perception. Meaning, we list this Cape May lodging option as no more then 3-stores. We have no scientific classification, but that's just the way we did it.
Many motels are scattered throughout Cape May. Some offer ocean front locations and some don't. You can typically find the better pricing with motels but sometimes it means you sacrifice something, maybe location, pool, who knows.
You can check out Cape May motels here.
Rentals
For house rentals your best option is to go through a real estate agent or contact a local realty office. There are many different styles of rental homes in Cape May. You can rent a rancher, bungalow, colonial, Victorian, really anything you want.
For the most part, you won't find many house rentals with an ocean front location. The majority of Beach Drive is taken by hotels, motels, and bed and breakfasts. The homes are generally set back at least a block.
Check out Cape May rentals here.
So no matter what type of Cape May lodging you are looking for, I'm sure you'll be able to find something. You can always look into Cape May Point and neighboring Wildwood Crest if you don't find anything that appeals to your needs.
Happy Lodging Hunting!