Hotel Macomber
Hotel Macomber
727 Beach Avenue
Cape May, New Jersey 08204
1-609-884-3020
Check out reviews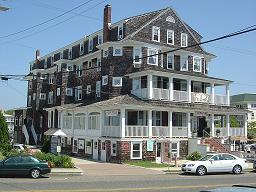 Review
The Macomber is located along Beach Avenue, which means it offers a beachfront location.
It offers 4-stories with very nice ocean/beach views from the ocean view rooms.
It is located directly across the street from the Cape May Boardwalk. Everything is pretty much in walking distance, from restaurants, to shops, to the beach.
The Union Park Restaurant is located within the hotel. It is a fine dining restaurant that many people enjoy.
The rooms are generally nice with a Bed and Breakfast touch to them.
You can check out the link above for other reviews of the Atlas Inn.
Directions
South on the NJ Garden State Parkway to the end. Go over the Bridge and continue straight to the first traffic light. At the traffic light make a left onto Madison Avenue and go the end of the street. At the end of Madison make a right onto Beach Avenue. Go 4 blocks to the first traffic light (corner of Beach and Howard).
Check out the map below to see its location!
View Larger Map