The Abbey Bed and Breakfast Inn
The Abbey Bed and Breakfast
34 Guerney Avenue
Cape May, NJ 08204
1-609-884-4506


Reviews for this B & B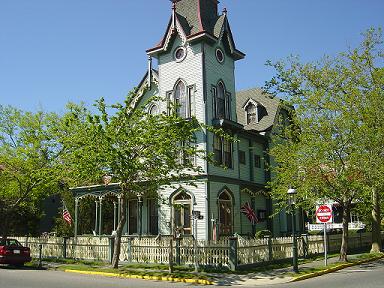 ---
---
Overview
It is a few hundred yards from the beach and maybe a 1/4 mile or so to the shopping area. It is located on a beach block; however, it's a long beach block. Most kudos go to the pure architecture. It is one of the places that actually catches your eye when you pass by. The location is nice. It's located amongst other bed and breakfasts with tree lined streets. However, you won't get a great view of the ocean.
Want to submit your own review? Click Here
Directions
Follow Garden State Parkway South to mile zero (end of parkway). Follow route 109 and cross the bridge (boat marina will be on the left). At the next traffic light (Madison Ave), turn left. Go 3 blocks to Columbia Ave, turn right. Proceed to Gurney St (monument is in the middle of the road), turn left.
Check out the town map to see its location!